Irish Guild of NLP, Hypnotherapy
&
3 Principles
Practitioners and Trainers (IGNLP

TM

) 
  Learn New Skills and Invest in Your Future 

Proudly Share that You Are a World Class NLP, 3 Principles and/or Hypnotherapy Practitioner
As an NLP, 3 Principles and/or Hypnotherapy practitioner or Trainer, you are committed to being the best and supporting your clients in being the best that they can be. At IGNLP, we aim to support your commitments by providing the best professional membership.
Your IGNLP Certificates and Membership ID convey a professional image and the coveted post nominal letters added to your name will show that you are affiliated to a quality and standards driven organisation.
IGNLP is accredited by the International Coach Register and the International Practitioners for Holistic Medicine. Therefore, the Irish Guild can develop its own accredited training courses and also accredit CPD training courses from other providers.  All the courses offered by IGNLP are a minimum of 120 hours of live Zoom calls or face to face teaching, this is a requirement for certification. Online home study courses are also accepted for IGNLP professional membership, and to gain certified membership you will need to attend 120 hrs of live zoom training with Dr Terry McIvor. This zoom training is included in the monthly IGNLP premium subscription fee of $13, if you have received the training from one of our accredited education partners.
Currently we are working with David Key from  Auspicium limited, and we have delivered accreditation for his live and home study courses.
IGNLP
TM 

Certification  




If you are studying or have completed the Auspicium (David Key's) home study NLP course, then sign up for your certification class for only $13 per month with our Premium membership offer. Additionally, you will gain a host of other benefits with our premium membership. These include but not limited to, free certification, free NLP certification classes, free certified membership status on successful completion of your certification exercises, free CPD courses available via our digital library and 20% OFF all paid workshops and courses.




You will have live zoom calls with our expert trainer Dr Terry McIvor, these live zoom calls will fulfil the certification requirements for IGNLP, IPHM and ICR.




Classes start on the 17th of January at 7pm U.K. time 

If you miss a class, do not worry, as classes will be rotated.




If you're not a student of David's, then you can still achieve certification via our alternative training route, one of our team will discuss this with you.




Those Students on David Keys Innate Wellbeing Certification should also sign up below. Once all students have signed up, an orientation questionnaire will be sent out to ensure that you get the most out of your membership services.




Additionally, you will gain a host of other benefits with our premium membership. These include but not limited to, free certification, free certified membership status on successful completion of your certification exercises, free CPD courses available via our digital library and 20% OFF all paid workshops and courses.




Please click on the link below for membership descriptions.

www.ignlp.ie/memberships



Become IGNLP
TM

Certified

Gain the knowledge and skills you need to help others and to grow your income. You will be entitled to display your IGNLP certified badge on your business cards, website, blog and letterheads. Your clients can be assured that they are working with a professional by having a direct link to your IGNLP membership profile.

Hypnotherapy is a branch of alternative medicine that is related to positive psychology, and hypnosis is a powerful and effective tool to help yourself and/or others. Hypnotherapy can be very beneficial in allowing people to move past their distractions and start living a more conscious life. 

Neuro-linguistic programming, more commonly known by the acronym NLP, can play an incredibly important role in helping people to become the individual they have always wanted to be.

The Three Principles of Mind, Consciousness and Thought were first discovered by Sydney Banks, a year 9 educated welder, born in Scotland in 1931, who then moved  to  British Columbia, Canada in the early 1970s.

The 3 Principles are laws that let us discover the  innate intelligence of  life. They are the fundamental processes that  operate in everyone's minds every second of every minute of every hour of every day.  It is the basis  of psychological learning.

Three principles approach to coaching  consists of  three main skills which are required to be an effective coach: 
rapport, 
listening 
reflecting. 
The Coach presents these skills  in a disciplined way so that the coachee will  feel listened to, understood, supported, stimulated and focused. 
Benefits of Becoming a Certified Practitioner with IGNLP

TM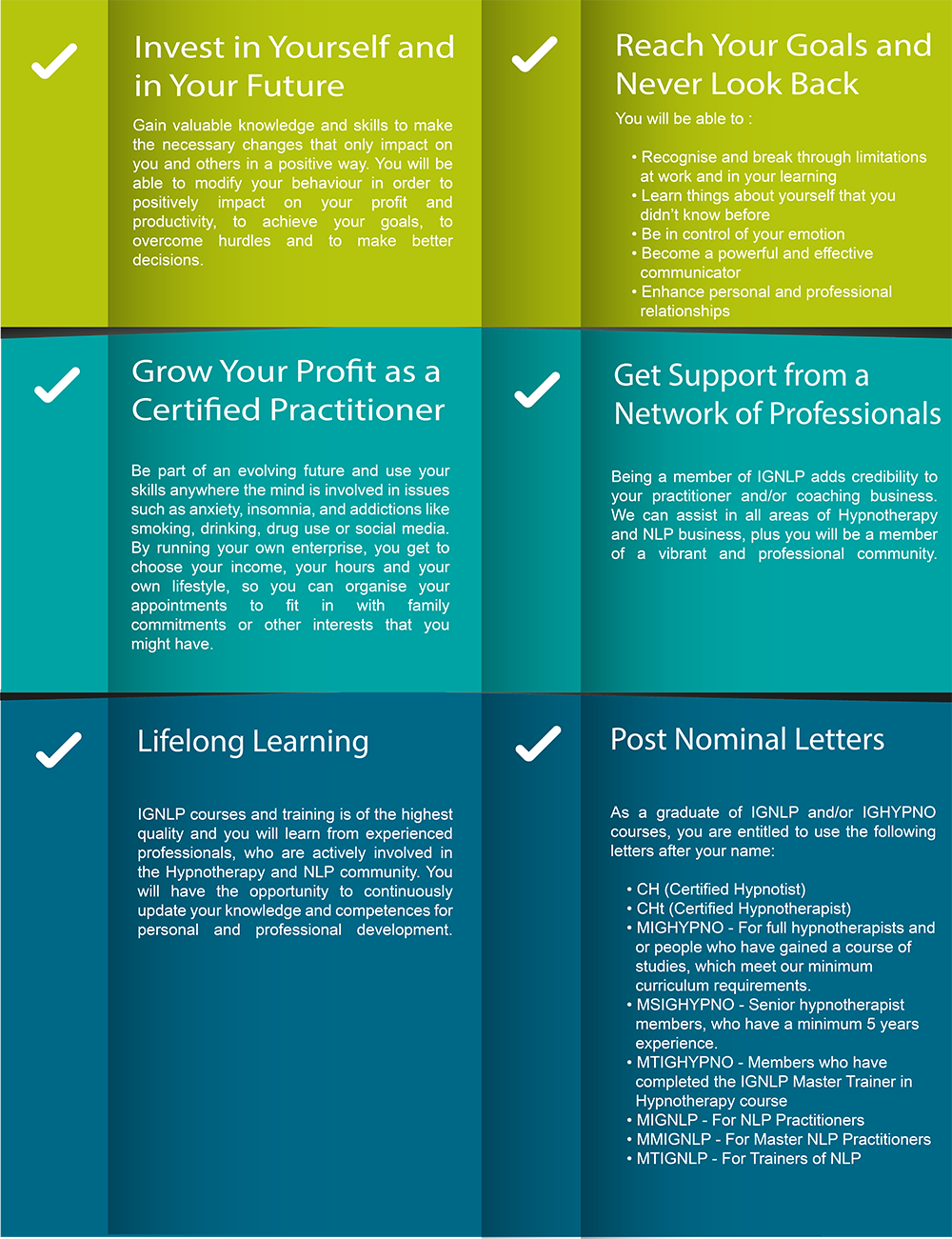 Enrol Right Now to Become an IGNLP

TM

Certified Therapist
Our comprehensive range of NLP, Hypnosis, Hypnotherapy and 3 Principles courses will teach you all that you need to know, in order to become a confident and highly effective therapist.
START YOUR MEMBERSHIP TODAY
Discounts to IGNLP workshops and conferences

Free Monthly webinars

Information about public liability and indemnity insurance

Digital library for practicing members and NLP, Hypnotherapy and 3 Principles Practitioners and Trainers




A support group of NLP and Hypnotherapy and 3 Principles professionals

Private Facebook Group

Opportunity to promote your business
HALL OF FAME
We are proud to announce that the most skilled and influential Hypnotists and NLP Practitioners currently in the world, are Lifelong Distinguished Fellows of the Irish Guild of NLP and Hypnotherapy Practitioners (IGNLP). We have awarded them with this prestigious membership for their services as they are helping thousands of people across the world. 
Join the IGNLP mailing list to get free NLP and Hypnotherapy tips & course updates
The International Coach Register (ICR):
 IGNLP is a certified institutional member of   ICR, our training programmes are fully   recognised and accredited by ICR,
Our expert trainer Dr Terry McIvor is a fully certified coach and led trainer recognised by ICR,
ICR Coach Register records and certifies ICR coach practitioners (coaches, business-coaches, child-coaches, conflict-coaches, hypnosis-coaches, inheritance-coaches, NLP-coaches) and their companies.
ICR Coach Register is the global mark and register for well-trained ICR coach practitioners.
European Mentoring & Coaching Council EMCC UK:
Together our aim is to promote good practice and the expectation of good practice in coaching, mentoring and supervision across Europe. IGNLP is an institutional member of the EMCC U.K. IGNLP undertook institutional membership with EMCC in order to uphold standards, ethics and frameworks to aid professional practice. 
Our lead trainer Dr Terry McIvor is currently a coach mentor for EMCC, training new coaches.
IGNLP is proud to be an Executive level Training Provider with the International Practitioner of Holistic Medicine (IPHM) certification, this certification means we are trusted to deliver a fantastic service, which means you will feel more at ease and confident when picking the right course and/or membership service for you!