The Guild is a professional organisation composed of a committee, which is made up of dedicated individuals committed to advancing the field of NLP, 3 Principles, Hypnosis and Hypnotherapy. IGNLP's symbol is quality, in-depth training, and a commitment to the integrity of NLP, Hypnotherapy and Hypnosis practice. Our founder, Dr. Terence McIvor is a thought leader in the areas of
Leadership
Sales Performance
Neuro Linguistic psychology
Critical Problem Solving
Transformative Coaching
Successful Thinking Engineering
Hypnosis
Education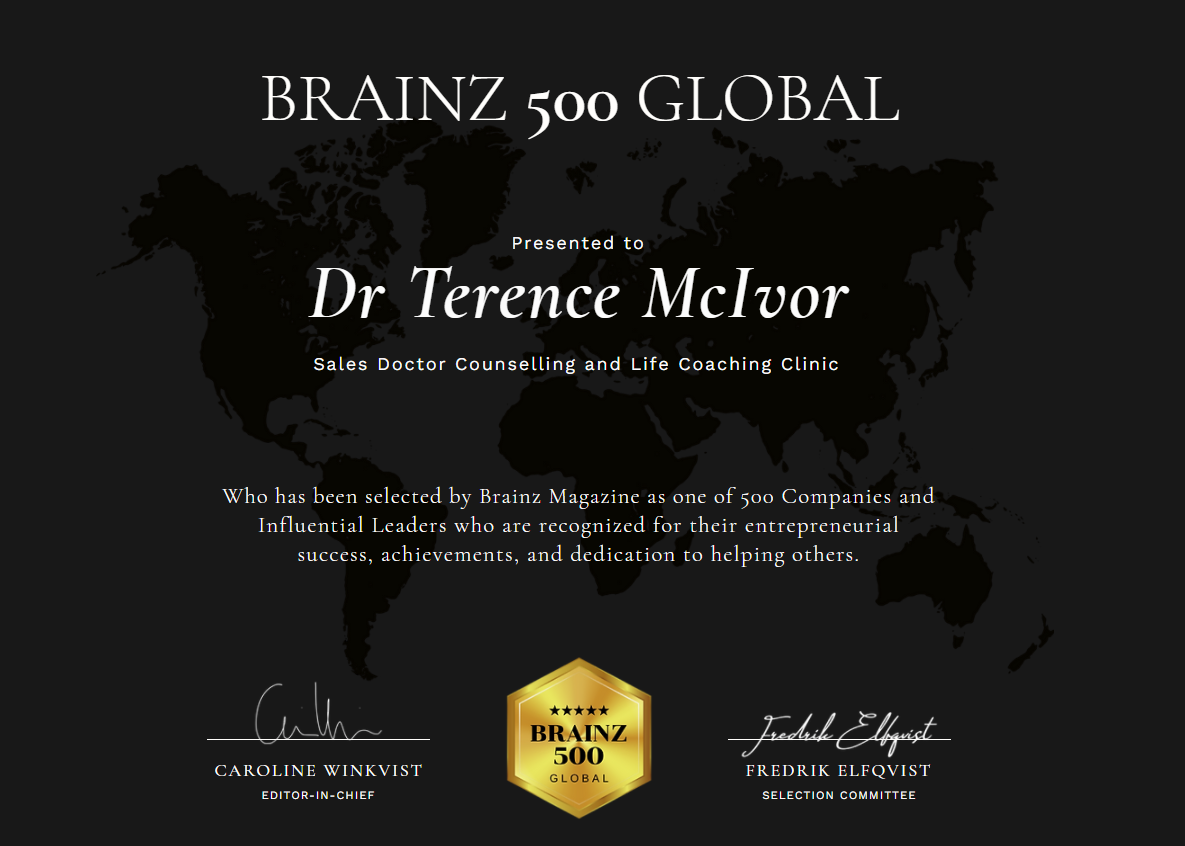 He is a fully certified coach accredited by the International Coach Register.
Dr. McIvor set up the Sales Doctor Coaching and Hypnotherapy Clinic to help not only salespeople and entrepreneurs, but other professionals who have been underperforming within their chosen occupations. Dr. McIvor has made it his mission to do everything possible to encourage an eclectic exchange of ideas, fellowship, mutual trust and cooperation among our members.
ABOUT OUR MEMBERS
All Hypnotherapy and NLP Practitioners registered with the Guild are qualified 3 Principles, Hypnotherapy or NLP Practitioners/Trainers who have taken at least 220 hours of training with recognised providers and have undergone rigorous assessment. They must have been involved in providing NLP, 3 Principles coaching, hypnosis and/or hypnotherapy services to clients for a minimum of 2 number of years.
The guild has a trainee membership category for those with less than the required 2 years and/or do not have the required qualifications.
We uphold the highest quality standards  of NLP, Hypnosis and Hypnotherapy, which is reflected in the skills, qualifications and experience of our members.
ABOUT OUR COURSES
All our NLP,3 Principles, Hypnosis/Hypnotherapy  Certification Programmes are a minimum of 120 contact hours over 6 months. In addition we offer short courses for beginners and for those who need a top up 'Practitioner' level training and who now want to take their learning to the next level.
We uphold the highest quality standards which is outlined in our courses section of our NLP, 3 Principles, Hypnosis and Hypnotherapy programmes. We are confident that our students will enter into their professional life in a competent and successful manner.

We know that people can learn through reading and watching videos, but for our skill development requirement, our trainers provide extensive and thorough hands on experience, either face to face or via live Zoom classes. (We have adapted our training to suit a Zoom based classroom). So that our students gain the skills needed to be a competent therapist.
Anyone can take our programmes and become a Certified Practitioner/Trainer and receive their Hypnosis Certification from the International Association of Counsellors and Therapists (IACT), International Medical and Dental Hypnotherapy Association, David Key's 3 Principles Apprentice Programme, Dave Elman Institute.
We strive to ensure that you attain the highest standards of performance and proficiency so that you can respond competently and compassionately to the needs of others.
Irish Guild for NLP, Hypnotherapy and 3 Principles Practitioners and Trainers
"A very comprehensive course, with lots of practical experience and supporting information! The training experience will be useful in my work as the topics covered were relevant."
Christel Ruiz
Teacher
Irish Guild for NLP, Hypnotherapy and 3 Principles Practitioners and Trainers
"The training was very interesting and useful. The content was organised, the trainers were well prepared and were knowledgeable about the topics. "
Emmanuel Joigneaux
Teacher
Irish Guild for NLP, Hypnotherapy and 3 Principles Practitioners and Trainers
"This NLP course exceeded my expectations. I enjoyed the small class size and we were given enough time to practice. The teacher was excellent, knowledgeable and approachable with a wide array of experience. He covered everything and was very helpful."
Anna Bode
Project Manager